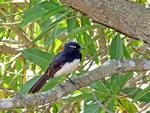 Family
Pachycephalidae
Habits
Diurnal, Adults live in pairs and jointly defend permanent territories Forages mainly on the ground
Habitat
Forest Shrubland Wetlands Coastal Woodland Grassland Desert Stone Country, Australia wide except Tasmania; open woodland; mangroves; inland waters and fringing forests.
Breeding
August September October November December. 3 to 4; cream-yellowish brown. Males and females share nest building, incubation and care of the young. Nest is a cup of grass and fine bark strips bound with spider web; lined with grass and fur. Generallt placed on a horizontal branch within five metres of the ground. Eggs hatch 14 -15 days, young fledge in 15 days.
Parks
Kakadu National Park
Diet
Carnivore, Insects; mainly insects and spiders; flies.
Details
| | | | |
| --- | --- | --- | --- |
| Common Name: | Willie Wagtail | Scientific Name: | Rhipidura leucophrys |
| Sub Order: | Unavailable | Order: | Passeriformes |
| Class: | Aves | Category: | Native |
| Status: | Least Concern | Size: | 190-210 mm. |
This page has been viewed times