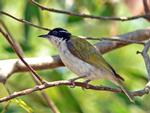 Family
Meliphagidae
Habits
Diurnal, Pairs and small loose flocks of 3-8 feed together. Nest in paris or samll communal groups in which other members help the senior nesting pair feed and rear their young.
Habitat
Woodland Forest Wetlands, Wooded Country, eucalypt woodland and forests, along watercourses and in paper-bark swamps and mangroves.
Breeding
July August September October November December January, 2; pale salmon-pink, reddish-brown markings.
Parks
Kakadu National Park
Diet
Omnivore, Insects and nectar.
Details
| | | | |
| --- | --- | --- | --- |
| Common Name: | White-throated Honeyeater | Scientific Name: | Melithreptus albogularis |
| Sub Order: | Unavailable | Order: | Passeriformes |
| Class: | Aves | Category: | Native |
| Status: | Least Concern | Size: | 130-150 mm. |
This page has been viewed times