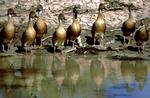 Family
Anatidae
Description
Distinguished by dark rich plumage, black bill and legs. Black crown with plain yellow-buff face and neck; shoulders chestnut. Immature: duller, centre of abdomen paler, dividing dark underparts.
Habits
Nocturnal, Feeds by up ending and diving in shallow water. Gathers in dense flocks of dozens to thousands; camps on bare margins of swamps and rivers sometimes with Plumed Whistling Duck.
Habitat
Wetlands, Streams lakes and lagoons; tropical freshwater wetlands; flooded grasslands; floodplains.
Notes
So called because in flight or on land flocks fill the air with a shrill whistling sound that they make with their wings as well as with their voice boxes
Breeding
January February March April May Breeds according to season conditions, 8 to12; creamy white, nest a depression in grass. Both sexes incubate the eggs for 28-30 days
Parks
Kakadu National Park
Diet
Herbivore, chiefly grass and other herbage.
Details
| | | | |
| --- | --- | --- | --- |
| Common Name: | Wandering Whistling-Duck (Tree) | Scientific Name: | Dendrocygna arcuata |
| Sub Order: | Unavailable | Order: | Anseriformes |
| Class: | Aves | Category: | Native |
| Status: | Least Concern | Size: | Male 550-610 |
This page has been viewed times