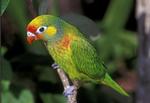 Family
Psittacidae
Habits
wander in noisy flocks searching for flowers and fruit
Habitat
Woodland Forest Wetlands, Flowering eucalypts; tea-trees; tropical lowlands; inland waters and fringing forest; open woodland; floodplains.
Breeding
Mainly April May June July August, 2-4; white. Incubation is about 22 days and young fly in 5-6 weeks.
Parks
Kakadu National Park
Diet
Herbivore, Nectar, pollen; fruits and seeds of eucalypts; paperbarks and grevillas.
Details
| | | | |
| --- | --- | --- | --- |
| Common Name: | Varied Lorikeet | Scientific Name: | Psitteuteles versicolor |
| Sub Order: | Unavailable | Order: | Psittaciformes |
| Class: | Aves | Category: | Endemic |
| Status: | Least Concern | Size: | 220 mm. |
This page has been viewed times