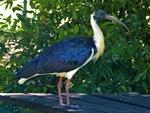 Family
Plataleidae
Habits
Diurnal,
Habitat
Grassland Woodland Wetlands Forest, Swamps; lakes; streams and pastoral lands; sea shores. Open woodland; inland water and fringing forests; floodplains.
Breeding
September October November December; or when conditons suit, 3 to 5; dull white, Incubation 20-25 days by both sexes,young fledge in 5 wks.
Parks
Kakadu National Park
Diet
Carnivore, Insects especially grasshoppers and their larvae; molluscs; frogs; snakes; water insects.
Details
| | | | |
| --- | --- | --- | --- |
| Common Name: | Straw-necked Ibis | Scientific Name: | Threskiornis spinicollis |
| Sub Order: | Unavailable | Order: | Ciconiiformes |
| Class: | Aves | Category: | Native |
| Status: | Least Concern | Size: | 680-750 mm. |
This page has been viewed times