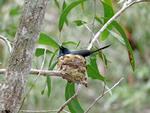 Family
Pachycephalidae
Habits
Diurnal,
Habitat
Coastal Woodland Forest Wetlands, Mangroves; tea-tree swamps; coastal streams; rainforest; escarpment.
Breeding
October November December January February, 3; greenish-white, spotted brown & lavender. Both sexes share nestbuilding, incubation, brooding and feeding the young.
Parks
Kakadu National Park
Diet
Carnivore, Insects caught in air and on logs in streams.
Details
| | | | |
| --- | --- | --- | --- |
| Common Name: | Shining Flycatcher | Scientific Name: | Myiagra alecto |
| Sub Order: | Unavailable | Order: | Passeriformes |
| Class: | Aves | Category: | Native |
| Status: | Least Concern | Size: | Unavailable |
This page has been viewed times