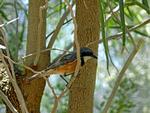 Family
Pachycephalidae
Habits
Mate for lift and form permanent territories that are defended by both sexes. Nest is a small cup of twigs and grass lined with finer material in a tree fork or dense bush.
Habitat
Woodland Forest Shrubland Stone Country, Mainly eucalypt; mallee and mulga or open woodland; escarpment.
Breeding
September October November December January, 2 to 3; dull olive-brown. Both sexes incubate the eggs for 12-15 days. Young fly in 10-15 days. One or two broods may be raised in succession, female constructs the nest and both sexes incubate and care for the young, which are fed for several weeks after leaving the nest.
Parks
Kakadu National Park
Diet
Carnivore, Insects; spiders and other small invertebrates; fruit and berries often eaten.
Details
| | | | |
| --- | --- | --- | --- |
| Common Name: | Rufous Whistler | Scientific Name: | Pachycephala rufiventris |
| Sub Order: | Unavailable | Order: | Passeriformes |
| Class: | Aves | Category: | Native |
| Status: | Least Concern | Size: | 160-170 mm. |
This page has been viewed times