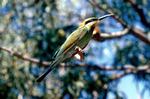 Family
Meropidae
Habits
Diurnal, Communal birds, groups of 20-30 fly in loose parties when migrating. Also roost together at night,
Habitat
Woodland Forest Grassland Wetlands Stone Country, Prefers open areas; open woodland; inland waters and fringing forests; escarpment.
Breeding
October November December January February, 5 to 7; white and glossy. Incubation 21-25 daysc by parental pair and helpers, young brooded and fed by parents and helpers, Fledge in about 4 wks.
Parks
Kakadu National Park
Diet
Omnivore, Insects.
Details
| | | | |
| --- | --- | --- | --- |
| Common Name: | Rainbow Bee-eater | Scientific Name: | Merops ornatus |
| Sub Order: | Unavailable | Order: | Coraciiformes |
| Class: | Aves | Category: | Native |
| Status: | Least Concern | Size: | Unavailable |
This page has been viewed times