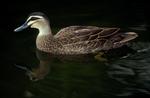 Family
Anatidae
Description
Dark wood-brown, with pale feather-margins: speculum dark green to purple, edged black. Head pattern: crown blackish, face and throat whitish to yellow-buff with two black stripes. Bill dark-grey, legs dull-yellow or grey-brown.
Habits
Diurnal, Nest varies from a mere scrape to a substantial tructure of grass and reeds, on the ground, in reeds or in a cavity in a tree.
Habitat
Wetlands Grassland Woodland, Inland waters and fringing forests; floodplains; Streams lakes and swamps.
Breeding
July August September October November December, 8 to14 ; creamy white eggs nest of grass lined with feathers in tree or reeds or grass . gregarious at all seasons, but disperses in single pairs to breed. Incubation period 26-28 days and young take about 50 days to fledge.
Parks
Kakadu National Park
Diet
Omnivore, Aquatic life and plants; insects and small aquatic invertebrates.
Details
| | | | |
| --- | --- | --- | --- |
| Common Name: | Pacific Black Duck | Scientific Name: | Anas superciliosa |
| Sub Order: | Unavailable | Order: | Anseriformes |
| Class: | Aves | Category: | Native |
| Status: | Least Concern | Size: | Male 500-610 |
This page has been viewed times