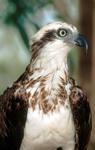 Family
Pandionidae
Habits
Nests added to year after year by the resident pair. Young are taught to fish within a week of leaving the nest.
Habitat
Coastal Woodland, Borders of rivers; lakes; inlets of sea; islands; Mangroves; Inland waters and fringing forests.
Breeding
May June July August September, 2 to 3; heavily blotched larger end reddish-purple, nest bulky structure of sticks on rocky foreshores or cliffs. Incubation about 5 wks by female only., male shares in nest building and is the sole provider of food during incubation and once the young have hatched.
Diet
Carnivore, Fish; occasionally take sea snakes.
Details
| | | | |
| --- | --- | --- | --- |
| Common Name: | Eastern Osprey | Scientific Name: | Pandion cristatus (haliaetus) |
| Sub Order: | Unavailable | Order: | Falconiformes |
| Class: | Aves | Category: | Native |
| Status: | Least Concern | Size: | Male 500 mm |
This page has been viewed times