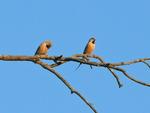 Family
Ploceidae
Habits
Highly social, ofrming small loose sedentary colonial flocks of 10-15 pairs.
Habitat
Grassland Forest Woodland, Open country and grass bordering watercourses.
Breeding
January February March April May, 5 to 6; white. both contribute to nest building, incubation, and caring of the young. Incubation 13 days, young fledge 22 days.Up to 3 broods reared in a season.
Parks
Kakadu National Park
Diet
Omnivore, ripe and half-ripe seeds; during breeding season flying insects; termites and ants.
Details
| | | | |
| --- | --- | --- | --- |
| Common Name: | Long-tailed Finch | Scientific Name: | Poephila acuticauda |
| Sub Order: | Unavailable | Order: | Passeriformes |
| Class: | Aves | Category: | Endemic |
| Status: | Least Concern | Size: | 140-150 mm. |
This page has been viewed times