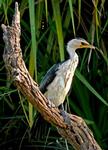 Family
Phalacrocoracidae
Habitat
Coastal Wetlands, Lakes; streams; inlets; rocky islets. Marine or freshwater throughout Australia; mangroves; inland water and fringing forests; floodplains.
Breeding
Breeds in colonies late summer to winter, 4 to 7; pale bluish-white coated with lime, nest of green twigs in tree near water,Incubation , nest building by both sexes.
Parks
Kakadu National Park
Diet
Carnivore, Aquatic animal-life; crustaceans; fish.
Details
| | | | |
| --- | --- | --- | --- |
| Common Name: | Little Pied Cormorant | Scientific Name: | Microcarbo (Phalacrocorax) melanoleucos |
| Sub Order: | Unavailable | Order: | Pelecaniformes |
| Class: | Aves | Category: | Native |
| Status: | Least Concern | Size: | Unavailable |
This page has been viewed times