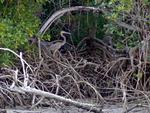 Family
Ardeidae
Description
A very large dark grey-brown heron with a heavy, mostly dark bill, yellow facial skin and a short crest; eye silvery-brown, legs grey. Immature: more rufous; no crest or plumes.
Habits
Diurnal, Birds seem to pair permanently and hold a foraging territory of riverfront. Shy and difficult to approach, rests in trees, feeds at low tide along mangrove-lined waterways and mudbanks.
Habitat
Coastal Wetlands, Mangroves; mud flats; estuaries; floodplains; lagoons; rivers of Northern Australia.
Breeding
Breeds throughout year depending on food. 2; light bluish green, nest of coarse stisks in mangrove trees. Incubation by both sexes.
Parks
Kakadu National Park
Diet
Carnivore, Crabs and marine invertebrates; catfish.
Details
| | | | |
| --- | --- | --- | --- |
| Common Name: | Great-billed Heron | Scientific Name: | Ardea sumatrana |
| Sub Order: | Unavailable | Order: | Ciconiiformes |
| Class: | Aves | Category: | Native |
| Status: | Least Concern | Size: | 1 - 1.5 m. |
This page has been viewed times