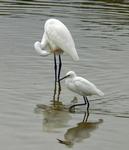 Family
Ardeidae
Description
It has a gaunt lanky leaning- forward look. For most of the year, bill pale to rich-yellow; flat crown, yellow gape pointing back under eye; legs blackish. Breeding plumage: bill black, facial skin green; splendid wing-plumes cascade over back but no plumes on brease.
Habits
Diurnal, Large wading birds, feeds along and defends its feeding area from other birds. Waits and watches prey before stabbing it with his beak.
Habitat
Coastal Wetlands Grassland, Swamps and edges of lakes and streams; floodplains; rivers and dams throughout Australia .
Breeding
March, April, May, Three to five pale, blue-green eggs. Nest sticks in a tree on water edge. Breeding variable both males and females, incubating the eggs for 21-27 days. Young fly after 35-50 days
Parks
Kakadu National Park
Diet
Carnivore, Fish; frogs and aquatic insects.
Details
| | | | |
| --- | --- | --- | --- |
| Common Name: | Eastern Great Egret | Scientific Name: | Ardea modesta (alba) |
| Sub Order: | Unavailable | Order: | Ciconiiformes |
| Class: | Aves | Category: | Native |
| Status: | Least Concern | Size: | 800-900 mm. |
This page has been viewed times