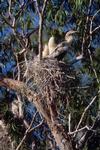 Family
Anhingidae
Description
Stiletto-like bill, snake-like kinked neck, pattern in dark plumage and large black tail. Male: variable but usually very dark with white streak down side of chestnut-marked neck. In breeding plumage, long plumes, buff with black borders, adorn back. Female and Immature: head and hindneck pale-grey, foreneck white with black whisker, breast white. Both Sexes: bill and facial skin yellowish, feet pink or grey.
Habits
Diurnal, Less gregarious than cormorants, singly or pairs: occasionally open companies.
Habitat
Coastal Wetlands, Steams; lakes and swamps preferring deep pools; sheltered coastal estuaries; mangroves; inland waters and fringing forests; floodplains.
Notes
Photo Yellow Waters, Kakadu N.P., non breeding plumage.
Breeding
January to April, 3 to 5 greenish with white covering of lime. Both sexes incubate the eggs for about 26-30 days and young fly after about 50 days.; , nest of twigs in trees in or near water
Parks
Kakadu National Park
Diet
Carnivore, Fish; insects; small aquatic animals.
Details
| | | | |
| --- | --- | --- | --- |
| Common Name: | Australasian Darter | Scientific Name: | Anhinga novaehollandiae (melanogaster) |
| Sub Order: | Unavailable | Order: | Pelecaniformes |
| Class: | Aves | Category: | Native |
| Status: | Least Concern | Size: | 850-900 mm. |
This page has been viewed times