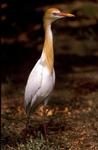 Family
Ardeidae
Description
Smallest egret; Breeding plumage: orange-buff lonishe plumes on head, breast and lower back; bill orange-yellow with red base; face and legs red. Non breeding: white, sometimes with yellow-buff wash on head and neck; bill yellow, legs balck, orange or yellow.
Habits
Diurnal, Feed around the feet of slow-moving cattle and buffalo. Communal and forage mainly in wet pasture in groups of 2-20.
Habitat
Coastal Woodland Wetlands, open woodland; inland waters; floodplains; swamp margins.
Notes
The reduction in the number of Water Buffaloes or their elimination from the Kakadu region could affect the abundance of Cattle Egrets which normally forage in association with Buffaloes.
Breeding
Breeds throughout year, mainly early summer in North. 3-6 eggs, white tinged blue-green. Incubation 22-26 days by both sexes, Young fledge in 25 days.
Parks
Kakadu National Park
Diet
Carnivore, insects and parasites off the hides of cattle and buffalo.
Details
| | | | |
| --- | --- | --- | --- |
| Common Name: | Cattle Egret | Scientific Name: | Ardea ibis |
| Sub Order: | Unavailable | Order: | Ciconiiformes |
| Class: | Aves | Category: | Native |
| Status: | Least Concern | Size: | 800-900 mm. |
This page has been viewed times