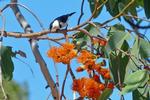 Family
Meliphagidae
Habits
Diurnal,
Habitat
Woodlands Forest, open eucalypt; riverine vegetation.
Notes
Nomadic and travel in a slow, undulating flight over the woodlands
Breeding
October November December January, 2; buffy-white becoming darker towards larger end. Mated permanently.
Parks
Kakadu National Park
Diet
Omnivore, Nectar of eucalypts; grevilleas and melaleucas as well as any other species in flower. Also a variety of insects.
Details
| | | | |
| --- | --- | --- | --- |
| Common Name: | Banded Honeyeater | Scientific Name: | Cissomela (Certhionix) pectoralis |
| Sub Order: | Unavailable | Order: | Passeriformes |
| Class: | Aves | Category: | Native |
| Status: | Least Concern | Size: | 120-130 mm. |
This page has been viewed times